Frank Cassidy (Teelin, Co. Donegal) transcribed by Séamus Ennis 15.9.43 (NFC-MM-020-009)1. (See playlist for audio examples).
See also Lord Mayo.
Very broadly speaking and with some notable exceptions, as a slow air the tune Tiarna Mhaigh Eo exists in two main versions: the Donegal version as can be heard in the playing of musicians such as Frank Cassidy2 and John Doherty3 (see playlist), and another popular version generally found more to the south of the country. The most obvious difference to the song/march air is a change in both cases to a major mode. Some exceptions to these two may be found in the playing of Mickey Doherty4 and a more distant if not altogether different tune from Néillidh Boyle5.

In Ennis's transcription (above) from Frank Cassidy, although the a-part is somewhat similar in contour to the song/march, the b-part might be interpreted as having occasionally shifted the emphasis a quaver earlier to the G, changing the impression of the tune considerably.
Related to this is the unusual and not very widely played version from John McFadden and James Early from around 19036 offering a very rare example of duet slow air playing:

John McFadden and James Early – Lord Mayo7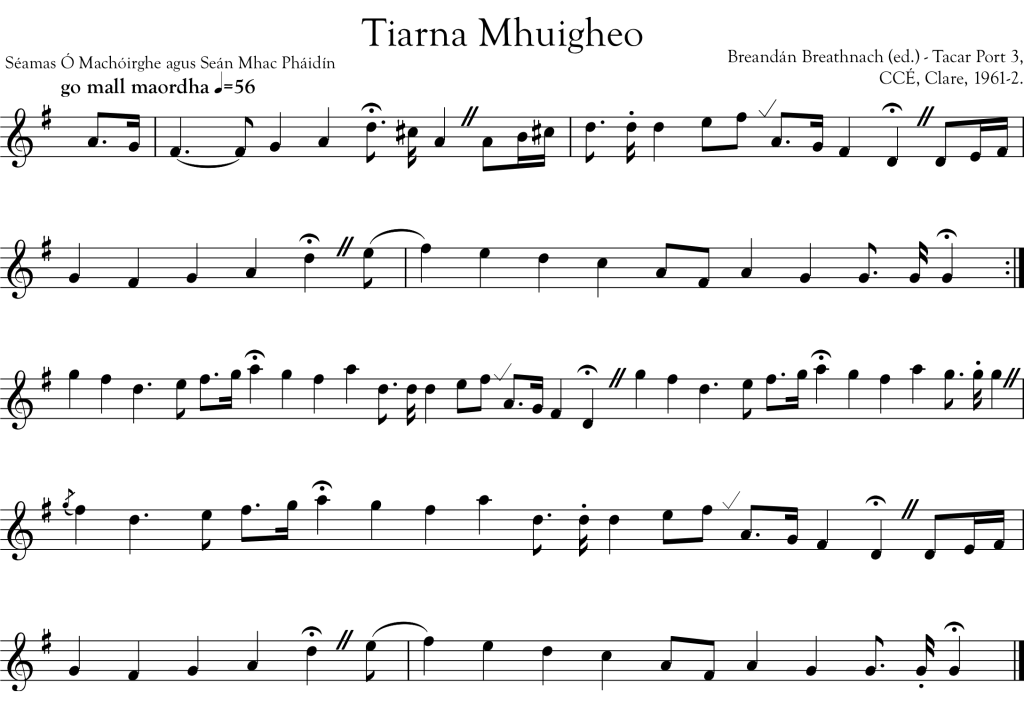 Below can be seen the likely source as given by piper Turlough MacSweeney (Gaoth Dobhair, c.1831-1916) to Early8:

In their performance, the quaver shift occurs also in the a-part along with a change of mode presenting D as tonic thus obscuring its relationship to the song/march air although this becomes obvious when seen written down in McSweeney's source version and compared with Breathnach's transcription (n.b. where the sixth note in the last bar of each part should be G).
It is difficult to think of another example where a simple rephrasing gives the impression of a totally different piece and judging from the source version it seems likely that the idea (in the a-part at least) is an invention of Early and McFadden.
In another main version of the tune, perhaps the most well known (see The Cheiftains in playlist), the a-part bears a resemblance to that of the Donegal version while the b-part arguably somewhat less so. Ó Canainn9 includes an F♮ at one point, although most performances tend to stay within the key signature: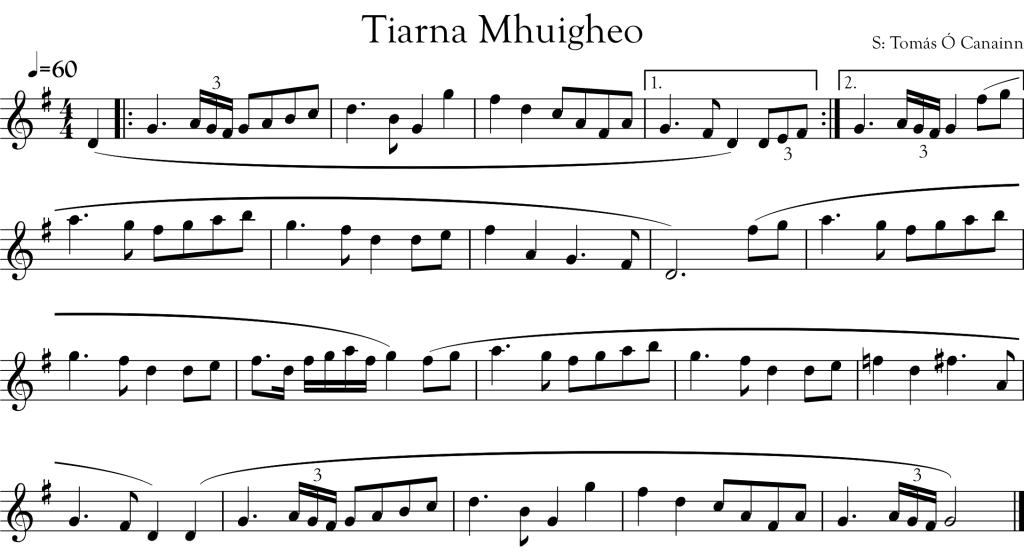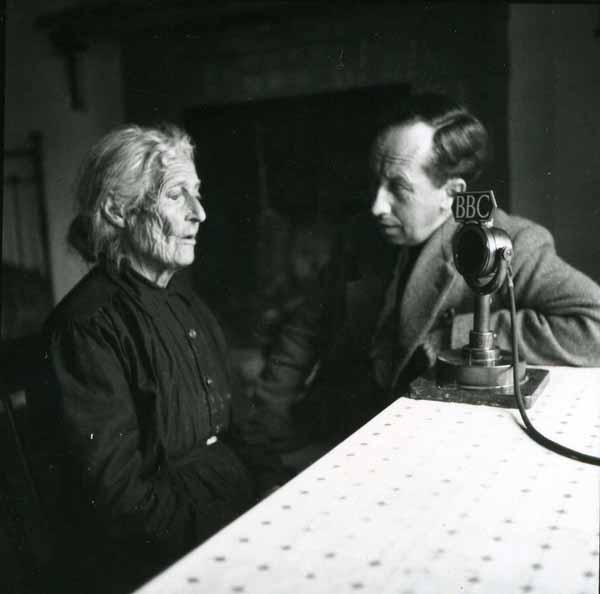 To conclude this selection, is a 1953 recording of Sheila Gallagher from Middle Dore, Co. Donegal at 90 years of age, which is perhaps if at all, only very faintly related to the above.

Sheila Gallagher – Tighearna Mhuigheo10

See also Lord Mayo.