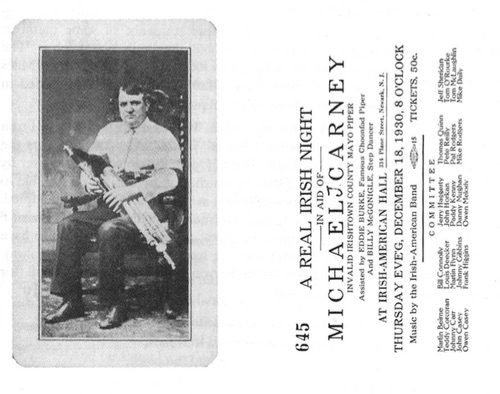 Michael Joseph Carney Thomas Busby1
Mike Carney was born in Dunmacreena, Irishtown, Co. Mayo around 1861. He emigrated to America in the early 1880 and died in Brooklyn in May 1938. He became paralyzed from the hips down in 1905 end was confined thereafter to a wheel chair, from where he did all his pipe and reedmaking and playing. He did not take up the pipes until after he became crippled but he was already a beautiful flute player. As a man once said, "would stand knee deep in snow to hear him play".

Mike was a great piper, a good pipe-maker and reed-maker. He came from a line of pipers. His father had played for Michael Davitt at the first Land League meeting which was held in Irishtown, Co. Mayo (1879). His uncle James was a good piper; he, too, lived in Brooklyn as did his brother Jim, who played the accordion and was full of music. Mike was a good Irishman and was held in high esteem by all Irish musicians in the country. All the flute players and fiddlers in New York and from all over the country came to hear him. Many a time there would be as many as ten of them in the kitchen, playing their hearts out. That was when you would hear the real music of the soil, an entirely different style from that you hear today. "May the eternal light of Heaven shine upon their souls". As one old timer said to me, "That breed has gone and they took it to the grave with them".

Mike was a much better player than the two records he made would suggest. When, in the semi-darkness of a summer night you walked into the house, you would find him in the kitchen leaning back in the old wheel chair, puffing on a cigar and belting away on the pipes. It was then you heard the back stitching and the cranning and the corauhibles being put in. He could play for hours and never repeat a tune. A lot of his music went to the grave with him. What a treasure we should have if tape recorders had been around at that time.

Mike and Patsy Tuohey were close friends.
Mike told me just to hear Patsy Touhey tune up the pipes was enough to make you quit playing. I am sure he was being modest for as far as I could see there was not much between them, only their style. Mike played a strong reed as you can tell from his records and Patsy played a weak reed which allowed him to do that intricate fingering without any hindrance. Many of the New York musicians got a lot of their tunes from Mike. Mrs. Carney told me Jim Morrison boarded with them when he was a green horn and when shaving in the kitchen sink if Mike played a tune he had never heard before, he would drop the brush or the razor, grab the fiddle and keep him playing it till he got it. Mike was the last of a piping strain. The old house is gone and none of the family left. He had no children, only a niece, now my wife, whom he raised and I only wish I had her gift of picking up tunes: I would be a happy man.

The last tune Mike played was "The Morning Star" reel and how well I remember it. He was sick but had gotten up. Bob Hartnett came in. I was sitting alongside Mike practising on the bag and chanter. Bob asked him to show him a turn in it. He leaned over and asked me to turn the chanter around. He played and I did the blowing.

I am enclosing for the museum two copies of a photo of Mike which had been done over or coloured like an oil painting. A friend, a camera bug, took them and they look much better than the original picture.Thomas Busby, New York.


Michael Carney – The Jolly Tinker2

Michael Carney – The Geese in the Bog3

Michael Carney & James Morrison – Poll Ha'Penny, Fisher's4

Michael Carney & James Morrison – The Peeler's Jacket, The Duke of Leinster5
This particular performance of the first tune was presumably the source for Willie Clancy's 78rpm Gael-Linn recording in the late 50s where he called it Ríl Mhichíl Uí Cheithearnaigh, although later taking to calling it The Ravelled Hank of Yarn, an older title and the one by which it is most commonly known today.
An in-depth biography of Michael Carney may be found at the 'Lives of the Pipers' web resource.