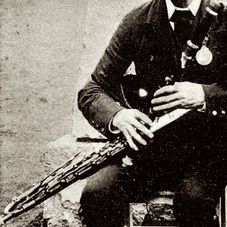 The following article from An Píobaire1 is presented with an introduction and editor's note from the original publication.
Michael Wallace
The Prince of Pipers
Submitted by Tom Munnelly, per Terry Moylan. This article was given to Tom by Joe Carey of Belmullet, at Castlebar 29 October 1998.
Joe informs us that the article was discovered, in single, loose, sheet form in a Westport (Co. Mayo) bookshop about thirty years ago. Our thanks to Tom and Joe for the article and for permission to publish.
Ed. note – This article is exactly as submitted to NPU. Errors have not been corrected.

Mr. Wallace, Doolough, Belmullet, married Miss Cecilia Doogan, Dooyork. They had two sons, Michael and Francis. Both were expert pipers. Michael was the better. It was from their mother's side they received the gift of music. All her brothers were good performers on the fiddle, flute, and pipes. The father dying while his sons were children, they were brought up in the home of a maternal uncle, where abundance of opportunity was given them of indulging the taste for perfecting their knowledge of music. Michael, the man, but at the expiration on his term of service returned to Belmullet. It was at this time he conceived the idea of entering the nuptial bonds, and married Miss Sarah Sweeney, a farmer's daughter of Mount Jubilee. There was no issue of the marriage. In personal appearance he was tall about six feet, well but not heavily built, brown hair, and clean-shaven; in manner social, agreeable, polite. He was not given to boasting nor was he ever a street player.
To one who had hears him play frequently, though leaving nothing to be desired, still a feeling remained that there were many equally good and a few better till he had the opportunity of hearing all the best pipers at the Feis Ceoils, when he realised that Wallace was by long odds superior to his contemporaries. Captain O 'Neill, in his excellent work, Irish Minstrels and Musicians, says of Wallace that: "This most celebrated of two brothers in the opinion of some critics rivalled the renowned William Connolly as a performer on the Union Pipes". Mr. Burke states: "1 have heard arguments among players about the Wallace Brothers. Some claimed that Michael Wallace was a better player than Connolly. In the latter's biography we have quoted Michael Egan as awarding him the palm of superiority as an Irish piper on either side of the Atlantic. As Egan, a piper and a pipe maker, was a competent judge, we must regard the questions supremacy settled".
While in the army an event occurred which brought into prominence there was musical prowess, and for which he was suitably rewarded. The Colonel of the regiment gave an entertainment to his fellow officers and wished to treat them to music, his words passed round amongst the soldiers to know if any could play a musical instrument. Wallace volunteered his services provided with a set of pipers. The Colonel lent him his for the occasion. So well did Wallace acquit himself, and so pleased was the Colonel, that's when the guests had left, addressing Wallace, said: "I see you can do justice to that set of pipes. I cannot. They should be in the hands of one who knows so well how to use them. Wallace, if you consent to accept them, I make you a present of them". The pipes were accepted. It was with them he afterwards delighted numerous audiences.
For many years he got a lot to do at his profession in and around Belmullet, being invited to play at Weddings, dinner parties, social gatherings, etc. He play on those occasions of the most beautiful of melodies, "The Caolin", was perfect. It was picturesque to see in those days, the sixties of the last century, marriage parties from country districts come to Belmullet riding double, sisters modest Irish girls, seated behind their brothers on spirited well- groomed horses. This is now changed to such things as traps and motors. On leaving the Catholic Church they were met at the door by Wallace, who to the strains of Haste to the Wedding, conducted them to a restaurant, where they had some light refreshments before returning home. The shrill notes of the piob mór (war pipes) through the street brought many faces to doors and windows to have a look at the latest happy couple joined in wedlock. While not otherwise engaged he taught in the surrounding villages Irish step-dancing, jigs, reels, and the rince fada; never any of those stupid, vulgar, immoral roundabouts which passed for dancing the outcome of depraved taste.
With the introduction of such poor makeshifts for musical instruments as squeaking melodeons and other of a kindred sort, which every school girl learnt to finger, Wallace's profession declined, and he was obliged to leave his home for Ballinasloe, where he spent the remainder of his life. When he saw his end approach he bequeathed all he valued most dear in this world, his pipes – the same he was presented many years before by the Colonel of his regiment – to his old friend and fellow-piper, Denis Delaney, and died on the twenty second of November, eighteen ninety eight, aged eighty three years. Delaney, not to be outdone in generosity, saw to his burial, and had him placed in the enclosure that contained the remains of Delaney's parents in the old cemetery. Church Street, Ballinasloe, County Galway.
Flaitheas Dé le anam na marbh. Wallace was a fluent native speaker of the Irish language.